We remember the Samaritan woman on the fourth Sunday after Pascha and on February 26 each year.  The Holy Gospel has not given us the name of the Samaritan woman, but the Tradition of the Church remembers, and calls her in Greek – Photini, in Russian – Svetlana, in the Celtic languages – Fiona, in Western languages – Claire, all these names speak to us of one thing – of light.  Again light, we spoke of light only two weeks ago! There is not a mention of light in the Gospel story of the Samaritan woman but, the light is there in the person of Our Lord. As in many encounters with Jesus, there is light or rather enlightenment.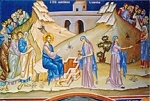 The Apolitikion for St. Photini begins with these words, "All illumined by the Holy Spirit…," once again, light. The constant mention of this phenomenon should cause us to stop and wonder. In this meeting with Jesus, the woman at the well gained insight into her own life and into salvation history.  Enlightenment can be defined as: the action or state of attaining or having attained spiritual knowledge or insight.  OK, what insight did she gain.  She understood the relationship of Jews and Samaritans.  She knew she was living with this guy who wasn't her husband. She well knew her marriage history.  What is left?  It seems to me that Photini still had doubts as to Jesus' identity. We read her question to the city dwellers, "Can this be the Christ?" She did peak the people's interest so that they went out to meet Jesus.  After they came face to face with him and listened to him they believed.
 The tradition of the Church tells us that Photini and her family were present at Pentecost. We read that St. Peter addressed the crowd by saying,"Repent and by baptized in the name of Jesus Christ for the forgiveness of your sins; and you shall receive the Holy Spirit." (Acts 2, 38) Her enlightenment was linked to her baptism, which the Church refers to as illumination.  She sought forgiveness for a life away from God. This was a process beginning with her meeting with Jesus and His coming into her life and her receiving the Holy Spirit, her empowerment at Pentecost. She was on fire with Christ, but the flame had to be nurtured and fanned from a spark lit by the Light and the warmth of the Holy Spirit.